Switch to DraftPreview(opens in a new tab)UpdateAdd title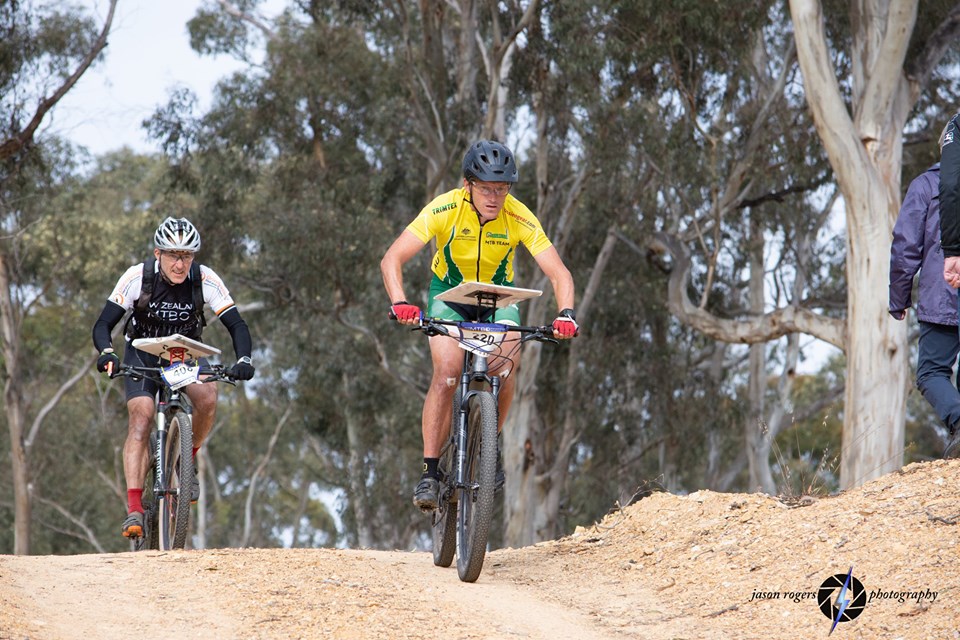 Well after a long time of planning and preparation, the 2019 Australian MTBO Championships are now over. We hope all who competed have arrived home safely (though those who attended the IOF workshop over Sunday-Monday may still be in transit) or are embarking on an extended holiday before you head back.
It was great to have so many international competitors at the Australian MTBO Championships this year – three from Britain and 27 from New Zealand. We had 162 individuals pre-entered and a handful of Entries on the Day.
The organisers were pleased to hear your (mainly) positive comments about our areas and courses, and were happy to take on board your constructive feedback. Our helpers were mainly foot-Orienteers from our three clubs (Bayside Kangaroos, Eureka OC, and Yarra Valley OC) but we also roped in a few others who were willing volunteers. Thanks to all of them. And especially those who turned up for every event. (You will have noticed Ian Chennell behind the download box at every event.)
CONGRATULATIONS to the Australian team which wrested back the ANZ Challenge Flag from the New Zealand team over the weekend. It was a pretty close Challenge and came down to the results at the last event.
One Recreation-Class competitor deserves special mention: Brad Saunders became aware that one of the Australian team members had dropped her SI stick just before her start, and couldn't find it in the long grass. He quickly handed over his SIAC for her to use ("She's in the team, can't delay her start!") and the organisers promptly arranged a change of details so she could start on time. Brad then took a regular SI stick which was immediately available so he too could start at his appointed time. Thanks Brad!
WHEN CAN WE COME BACK?
At present we reckon we'll be back at Maryborough for the Victorian MTBO Champs in 2020 – probably later in the year after we've recovered from this year! Keep an eye on Eventor for information, though no doubt there will be advertising on the Australian MTBO Facebook page.
PHOTOS
Thanks to Jason Rogers and Don Cherry for some great action photos of the Australian MTBO Champs at the weekend
Photos by Jason Rogers Photography on his Facebook page
Mountain Bike Orienteering Championships Saturday58 Photos
Mountain Bike Orienteering Championships Sunday108 Photos
Photos by Don Cherry of the Sprint and Middle races are on the Bendigo Orienteers Facebook page.Bendigo Orienteers
20191026 MTBO Middle Champs94 Photos
20191026 MTBO Sprint champs125 Photos
RESULTS
Many of you by now will have checked out the overall results for each race on Eventor, and checked how your splits compared, via Winsplits. But here are the links for all the events. We have loaded splits by both course and by class onto Winsplits – so even if you are in a small class, you can see how you compared against others on your course. Do you have bragging rights?
LONG DISTANCE
Overall results in Eventor:
https://eventor.orienteering.asn.au/Events/ResultList?eventId=7324&groupBy=EventClass
Results in Winsplits for Long Distance – by course
http://obasen.orientering.se/winsplits/online/en/default.asp?page=classes&databaseId=66614
Results in Winsplits Long Distance – by class
http://obasen.orientering.se/winsplits/online/en/default.asp?page=classes&databaseId=66613
MIDDLE DISTANCE
Overall results in Eventor:
https://eventor.orienteering.asn.au/Events/ResultList?eventId=7323&groupBy=EventClass
Results in Winsplits for Middle distance by course
http://obasen.orientering.se/winsplits/online/en/default.asp?page=classes&databaseId=66591
Results in Winsplits for Middle distance by class
http://obasen.orientering.se/winsplits/online/en/default.asp?page=classes&databaseId=66590
SPRINT DISTANCE
Overall results in Eventor:
https://eventor.orienteering.asn.au/Events/ResultList?eventId=7322&groupBy=EventClass
Results in Winsplits for Sprint Distance by Course
http://obasen.orientering.se/winsplits/online/en/default.asp?page=classes&databaseId=66589
Results in Winsplits for Sprint Distance by Class
http://obasen.orientering.se/winsplits/online/en/default.asp?page=classes&databaseId=66588
MASS START
Overall results in Eventor:
https://eventor.orienteering.asn.au/Events/ResultList?eventId=7321&groupBy=EventClass
Results in Winsplits for Mass Start by Course
– did you even know who else did exactly what you did?
http://obasen.orientering.se/winsplits/online/en/default.asp?page=classes&databaseId=66574
Results in Winsplits for Mass Start by Class
http://obasen.orientering.se/winsplits/online/en/default.asp?page=classes&databaseId=66573