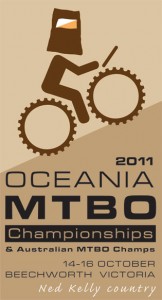 Sprint Results  /  Sprint Splits  /  Middle Results  / Middle Splits  /  Long Results  /  Long Splits
See the Maps and Routes in Routegadget: Middle,  Sprint,  Long
The 2011 Oceania and Australian MTBO Championships were held in glorious weather in and around Beechworth, Victoria Friday 14th, Saturday 15th and Sunday 16th October.
This year's championships were a co-production by Orienteering ACT and Albury-Wodonga Orienteering Club with Rick Armstrong, Leigh Privett and Norm McCann from AWOC teaming up with ACT's Bob Allison, Ann and John Scown to stage an exciting, event-packed long weekend in Victoria's high country. The highlights were numerous!
• 4 events in 3 days including a 3-person relay at Indigo Winery
• 2 social events – a bush BBQ and a sit-down dinner complete with 'Ned Kelly'
• a bicycle street parade through Beechworth
• 4 different terrains – from goldmining, to town streets, winery rows and pine plantations
• head cam coverage of the day's ride at both social events
• record Long and Sprint distance entry numbers
• great social atmosphere including over 30 New Zealand riders
Steven Cusworth dominated the elite men winning all three individual titles while New Zealand star Maquita Gelderman did similiarly in the women's class.  Melanie Simpson's second place in the Long netted her the Australian Championship resident trophy, while it was no surprise that the evergreen Carolyn Jackson was second in the ultra detailed middle distance event held on a 1:5,000 map of Rowdy Flat.  Tassie star Oscar Phillips also took out the trifecta in M20, but had Chris Firman, Tom Goddard and Heath Jamieson all close behind.  Rebecca Sunley also won all races in W20 but the long was only a 4 second margin over her sister Jasmine.   The New Zealand contingent did well in the veteran classes also, with their W50 runners even filling all places in the long.  All races were run on excellent maps well suited to the specific disciplines.   Victoria took home the interstate trophy with New south Wales being second.